Well…. it's gone! I've looked under my desk, in my fabric shelves, behind my sewing room door but nope, it's gone!!! Have you seen it, my sewing mojo that is…cause it's gone!!!
I think all my sewing at Christmas time finally caught up to me and right now I have absolutely zero ambition to sew… anything at all! Which wouldn't be a problem if I didn't have things I NEED to sew!!
I have 2 more dog harnesses about 90% done but do I want to do that last little bit?
Our oldest son is moving to the beautiful province of BC in a few short weeks (and will be self isolating for 2 weeks when he arrives, don't worry!) so I will stock him up with a good supply of masks…which I need to sew 🤦!!
And do I have a Blog that is kind of dependent on my sewing projects? Ummmm…yes lol!!!
Thankfully I recently saw a quick and easy project on the Shannon Fabrics Blog that I wanted to try so as I was leaving work Friday I remembered to grab a Fat Half of the beautiful Black Whistler Luxe Minky and hoped that having all it's beautiful-ness around me at home would inspire me to sew!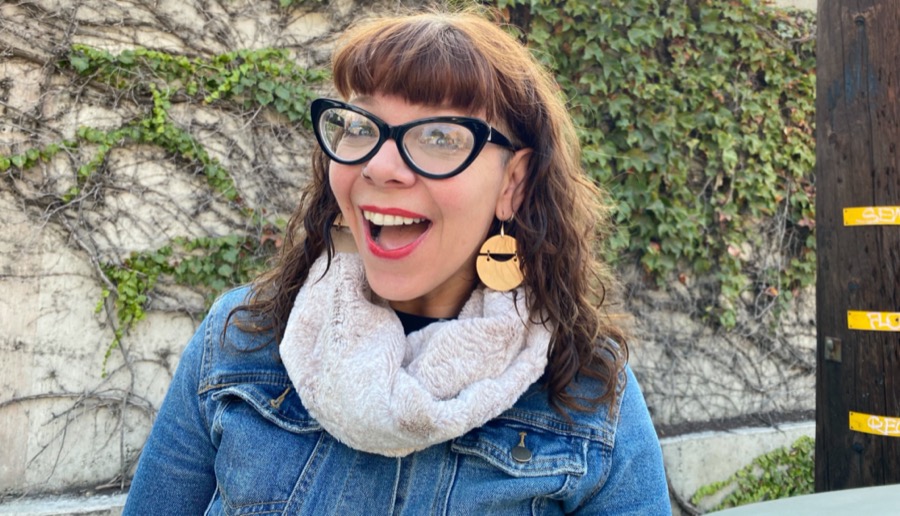 This is the awesome pic of Teresa Coates, National Educator for Shannon Fabrics, that caught my eye on the Shannon Fabrics Blog….not only was it her always contagious smile but that scarf….ooooohhhh, it looked so soft and comfy!! I don't know about you, or where you live, but to me, January and February are the coldest months in Ontario with freezing winds that cut right through you so a scarf to protect your face is a must!
Ta da…..it worked!! This is the beautiful scarf I made following the "How to Sew a Luxe Cuddle® Minky Fabric Infinity Scarf (Video Tutorial & Free Pattern)"! It was so easy and truly makes you want to make one in every possible Luxe that we have! From start to finish, it might have taken me half an hour! When I previously found the tutorial and pattern, I also watched the video, which I was glad to do as Teresa stated at the end of the video that she uses a shorter length so it doesn't hang down as far, which I also wanted so instead of using the 18″x36″ piece that the pattern calls for, she uses a 18″x30" piece and I totally agree with her, it's the perfect length! Other than that, I followed the pattern exactly! She even gives measurements for kids sizes too so you can make one for every member of your family!!
I used a zig zag stitch to close the hole in the seam where you pull it right side out and you can't even tell since your threads just kind of magically disappear in Minky!
I am 100% pleased with this project, and Norman approves too! It feels so nice up around your neck and face! It was absolutely the easiest minky project I've ever tackled so if you're new to sewing with Minky, I would highly recommend giving it a go…you can do it!!
Wait…what's that over there hiding in the corner? Well, what do you know…..I finally found my sewing mojo, it was right there all the time, it was just hidden by the cobwebs 🕸!!
What do you do when your sewing mojo takes a vacation without you? I know it happens to all of us at one time or another so we'd all love to hear your tips and tricks on how to get it back!
Have a great week of sewing everyone….and stay safe!
Shawna